Your Chat tool just got a huge upgrade with some exciting new features to help you improve your customer support capabilities. If you haven't tried it out yet, Chat is a free app that you can add to your website to create more meaningful interactions with your online visitors.
1. Facebook Messenger x Chat integration:
You can now manage all your Live Chat + Facebook Messenger conversations in one place. You can connect as many Facebook Pages as you wish to Chat, and afterwards you will be able to respond to your FB Messenger conversations directly in Chat.
How to set it up:
Go to Chat Settings> Messaging channels. Click on the Facebook Messenger icon, where you will be redirected to Facebook to connect your Business Pages. Please note that you can only connect your Facebook Pages, and not your personal Facebook accounts.
Once you have connected your Facebook Page(s), your connected Page(s) will now appear under your FB Messenger tab in Chat: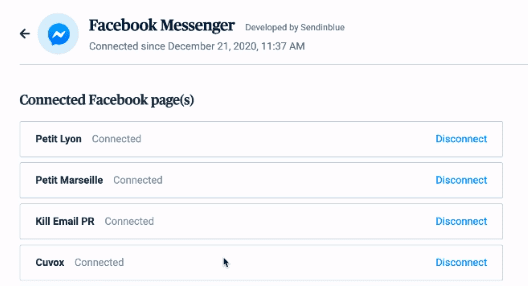 Hint: Keep an eye on this space, in the future you will be able to manage more customer communication channels in Chat. 😉 Our FB Messenger integration is just the first of many channels we plan to add!
1-Click Product Transfer feature live for Shopify & Shopware Plugin users
If you are using our Shopify or Shopware Plugin, you now have early access to our new 1-click Product Transfer feature in our Drag & Drop Editor, hooray! 🎉
This feature enables you to select products from your Shopify/ Shopware stores that you wish to promote, and drop them directly into your newsletter or email campaign.
How can I use this feature?
In your Drag & Drop Editor, you can drag a new 'Product block' into your blank canvas.
When you double-click on the Product block, a pop-up search bar will appear. Use this search bar to search for the name of your product from your Shopify or Shopwares store.
Once you've added your product: the product title, image, description & price will be automatically populated in your email. Your product URL will also be hyperlinked to your product image and button.
You can now choose to edit any of the product information by going to the settings bar on the left. Hit save on your changes and you're done!
Additional Plugin updates:
Your connected Plugins are now displayed on the Integrations page, and you have a new 'Manage Integrations' button on this page to make it easy for you to add or deactivate your Plugins.
You can now create a Marketing Automation workflow directly via your Plugin Settings page, saving you time from unnecessary redirections.